Irish Ex-pat attacked by Ladyboy on Walking Street, South Pattaya
In the early hours of Sunday a 55 year old Irish ex-pat was reportedly attacked by a Ladyboy after the pair entered into an altercation over unwanted advances made towards the Irishman.
Mr. Michael sustained injuries to his head, caused by being repeatedly struck by a high-heeled shoe belonging to the Ladyboy, Khun Wichai aged 24, who remained at the scene while Tourist Police made their way to the location, in the center of Walking Street, near Lucifer's Discotheque.
Both were taken to the Tourist Police Mobile Unit at the entrance to the Street where Mr. Michael claimed he was harassed by Khuh Wichai who would not leave him alone. Eventually it is claimed that Mr. Michael pushed Khun Wichai away and he fell to the ground. A fight ensued, during which time, Mr. Michael sustained the head injury.
Khun Wichai was later charged with assault and Mr. Michael was sent to Hospital where his injuries were attended to by medics.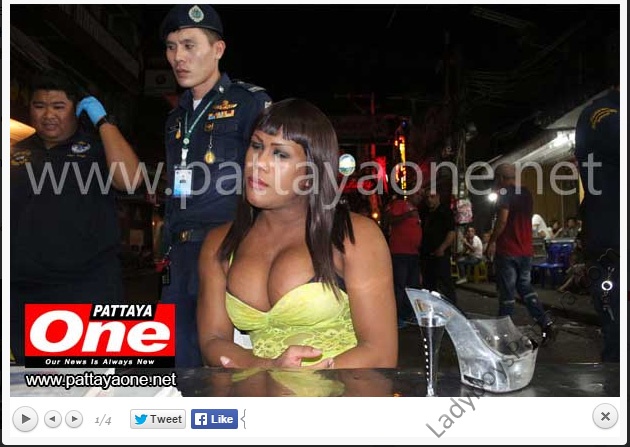 If anything a reminder to be careful in how to turn down advances. It's hard at times making the judgment call on how to fend off some of the girls. Especially when drinking and can't determine if they're trying to genuinely go with you or trying to lift valuables while groping. Those heels can be wicked weapons, as we've seen time and time again.