I stayed for a few nights in Lohas suites in Bangkok January 2016. I booked it about 4 days in advance directly on their website as it was a bit cheaper then agoda. Room was 2,400 Baht per night including all taxes and when I arrived I was upgraded to a one bed suite. In the past my hotels have always been paid for by my company but now I operate independently so I am more concerned about price. I'm not staying in the JW Marriott and paying non-corporate rates out of my own pocket.. that's for sure :-)
Lohas suites is owner by a Japanese hotel chain (Super Hotels) and used be called Amari Suites. It's about 500 meters down Soi2 (main entrance) or Soi 4 (side entrance) so it's a bit of walk but not much and they have a tuk tuk to take you up to the top of Soi 2 if you are lazy. It has a main entrance on Soi 2 and it also has a walkway to Soi 4 (it comes out opposite Omni Towers) which was handy when bringing back a guest from Nana Plaza or Chaos 9. It's very walkable even for a LB in heels. Chaos 9 is about 5 minutes walk at LB speed. CIB is bit more of a walk but not much so it's well located for all the action.
https://www.google.i...2c6d4d450?hl=en
Overall impression was OK. Reception was friendly and efficient. It clearly caters to a Japanese clientele and most guests I saw were from Japan as far as I could tell. I did not avail of the breakfast so can't comment.
There are two blocks and as I was staying in the block nearest Soi 4 I was able to walk in via Soi 4 entrance and into the block I was staying in without coming near reception. In fact I think you could avoid reception even if you stayed in the other block by coming in the same entrance. I usually never bother with getting them to leave IDs if I know the LB I am bringing back. There is a security guard at the Soi 4 entrance but they just wave you through with your guest.
Anyway, some pictures of room. As I said I was upgraded to a one bed suite but it was on 3rd floor so had a crappy view and was quite dark as well. Picture of room.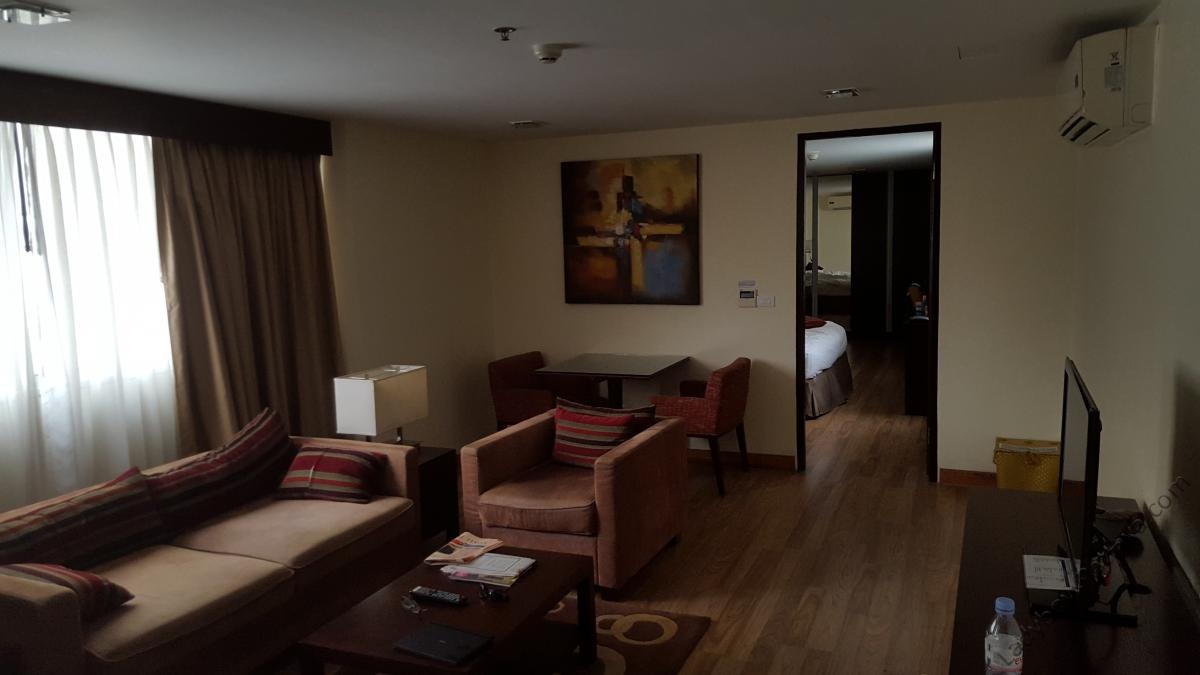 Decent kitchen area, (there was a washer drier in the bathroom also)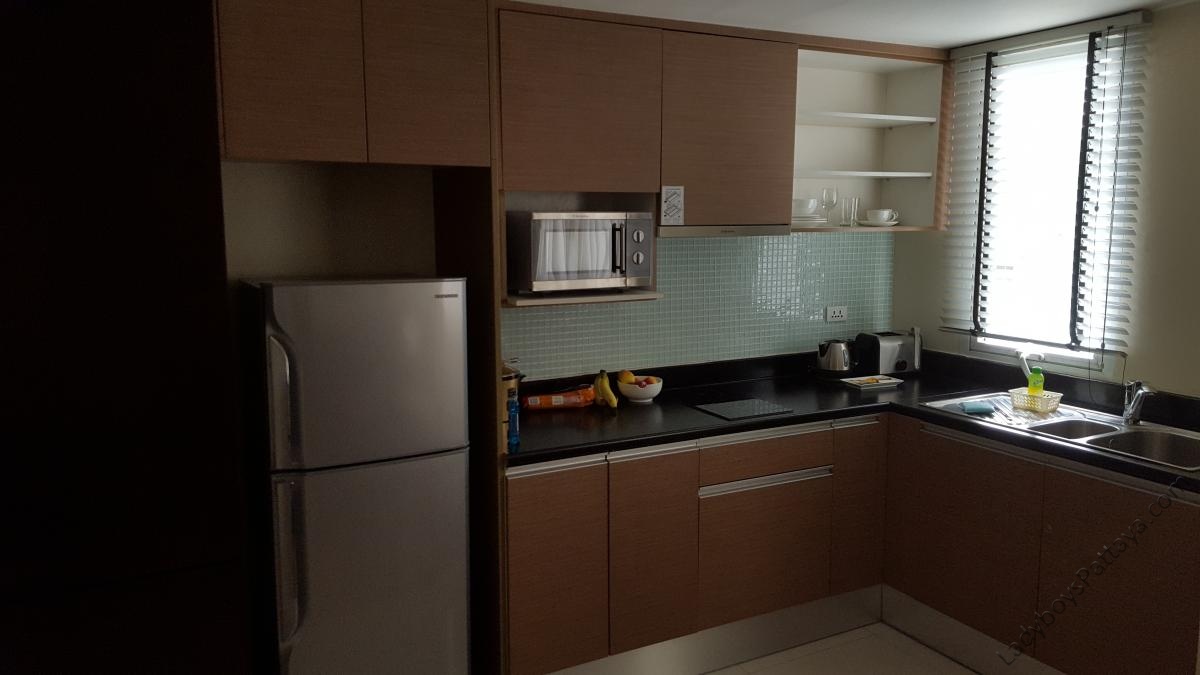 Very little natural light in bedroom but good size and nice bed.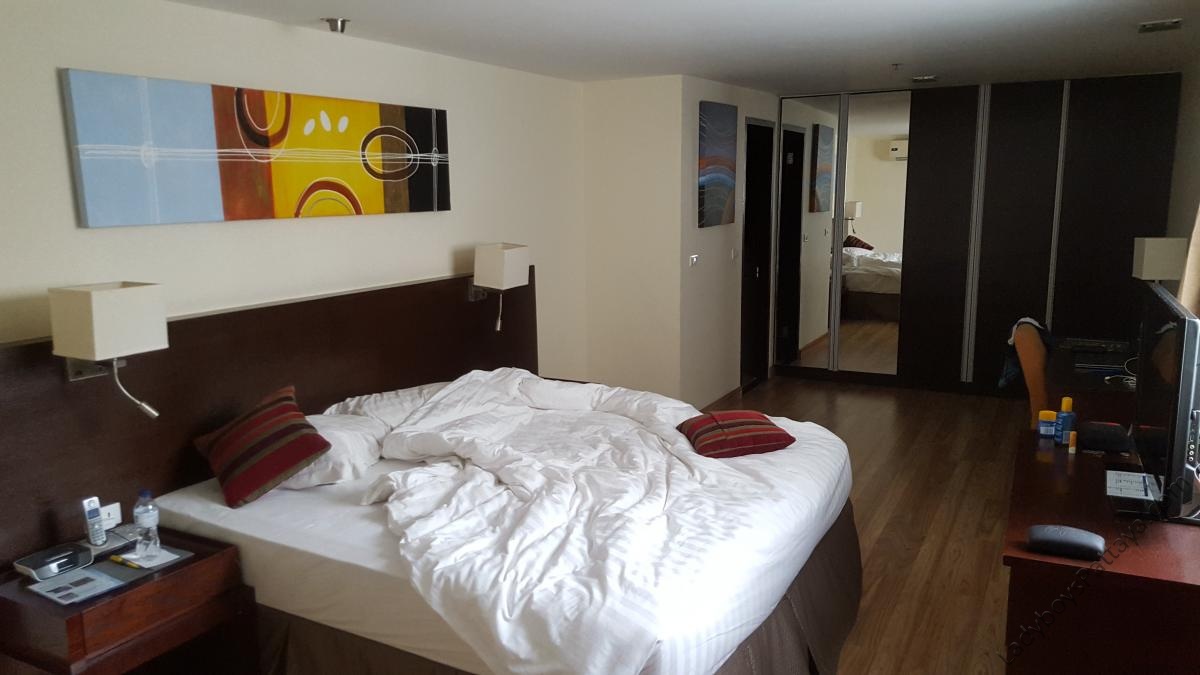 Nice bathroom even though shower was in bath which I hate. Give me a nice walk in shower over a bath any day.
OK pool area on roof. Not a great day (it was actually bloody cold for Bangkok !) so people were wrapped up sitting out by the pool.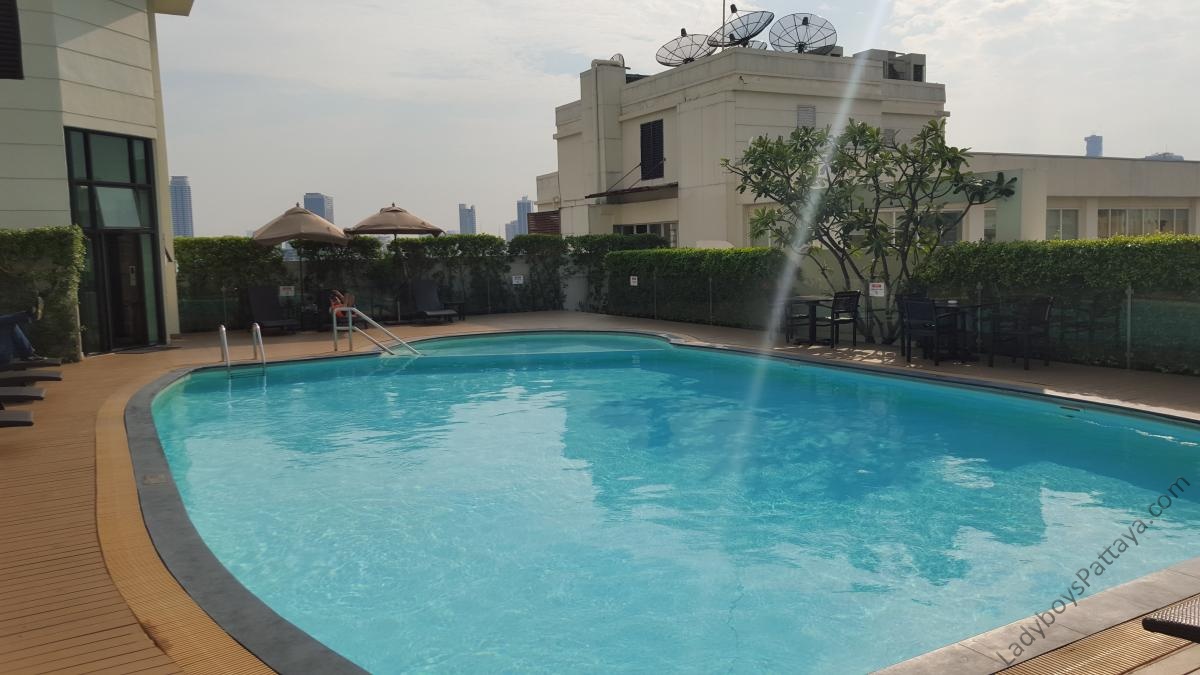 So would I stay there again. Yes, if I got the 2400 price I think I would. I noticed that on checkin you can request an upgrade to a room with a balcony (I think they look out on Soi 2) for a small enough extra charge but I was happy to have a 1 bed suite so I didn't ask to look at the other options. Next time I think I would as I like having a balcony and it's useful if you have a LB who wants to smoke staying with you.